About Us
Values and Ethos statement
Pastoral Care
We believe that the best schools are open to everyone regardless of money, faith, gender or ability. This works because we are able to offer provision that comprehends the needs of everyone. This web site uses the mechanism of scientific elements to show you how it is possible to find the things that support and inspire your child, including some of the less familiar areas of the curriculum. It will also show how other elements will ensure your child is in an environment where those alongside them with a different profile will be cared for and engaged.
We assume the core, and now Modern Foreign Languages, will be familiar to you. Our record of delivery in these subjects is very strong indeed.
There is a limit to how a prospectus can convey the passion we have for our school. I would always advise a visit. You would be very welcome and go away reassured and excited.
I hope we help you see why students and staff love coming here so much.
History
The school was established in Wallingford 350 years ago by the merchant tailor Walter Bigg who wanted to endow a school associated with the parish church of St Mary's.
He was born and raised locally and went on to be elected Lord Mayor of London. Although he made good he never forgot his roots and was keen to help others. He left us a trust fund that still exists for the benefit of our young people. We hope to encourage a similar desire to serve the community in our current students.
We are proud to have maintained our links with the Merchant Taylors' Company in the City of London continuously since 1659.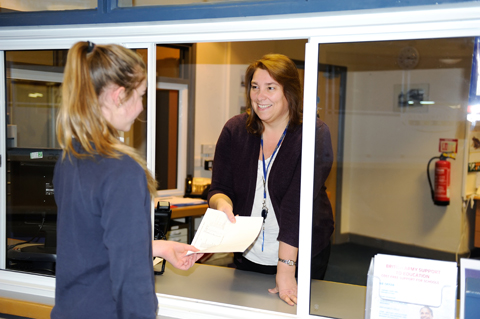 WSA in the community
The school is keen to serve the town and surrounding villages. The mix of students is a wonderful one, with the vast majority being well-brought up and ambitious. We are one of the largest local organisations in the area and seek to engage with local community groups. The school accepts responsibility for holding young people to account for their conduct in the community and is keen to help with events both in the villages or Wallingford itself. We are involved with younger children in primary schools and those at the other end of their lives in care homes.
People attend our public performances for the quality of entertainment. Our productions and Spring Concert are part of the community's calendar. Students are also invited to play at local functions, festivals and celebrations over the weekends.
The opinions of students are increasingly important to the direction of the school and each year they spend a significant sum of money. They are also involved in the development of teaching and learning. In return, students share responsibility for helping the school run smoothly. This can be as Prefects, School Officers, Student Ambassadors or on Reception Duty Parents and carers of pupils at the school are automatically members of the Wallingford School Association, or WSA, and anyone is welcome to join the committee. The main fundraising event is the Annual Quiz Night, but we also run a 200 Club, provide refreshments for the Christmas School Production and Spring Concert. Committee meetings are held 4-5 times each school year and the Headteacher, or a representative, is usually present and gives a report.
This is a cheerful and successful school. You are welcome to visit and explore those elements that interest you. Your child will leave Wallingford Qualified to make a difference in the world and be Able to recall very happy schooldays indeed.
---
School Calendar
2016-2017 Calendar (updated 19th June 2017)
2017-2018 Term Dates (6th January 2017)
---
Uniform
All school uniform sales are processed through the Wallingford School Online Uniform Shop.
---
Governing Body
Ian Domville Chair
Ken McCrea Vice Chair
Vanessa Bennett
Hugh Carter
Sue Cleaver
Alex Criddle
Sarah Dow

Charles Eales
Paul Eccleston
Esther Mason
Jon Pebworth
John Peel
Barry Ryan
Alison Sanders

Sharon Slade
Gordon Stewart
Tim Titchener
Tim Vallings
Roger Weedon
Wyll Willis

Governance Structures
Governor Information 2016-2017
Governor Information 2015-2016
Governor Meeting Attendance 2015-2016
Governor Meeting Attendance 2014-2015
Memorandum of Association
Funding Agreement (16Mb)
E-mail
Write to: This email address is being protected from spambots. You need JavaScript enabled to view it.
Address
c/o Clerk to the Governing Body,
Wallingford School,
St George's Road,
Wallingford,
Oxon,
OX10 8HH
---
Oxfordshire Teaching Schools Alliance
Wallingford School is a strategic partner of the Oxfordshire Teaching Schools Alliance. If you're interested in becoming a teacher, click for details, or contact This email address is being protected from spambots. You need JavaScript enabled to view it. for more information.
---
If you would like a hard copy of the information below, please contact the school: This email address is being protected from spambots. You need JavaScript enabled to view it.
---
Curriculum
School Curriculum
Curriculum Overview Key Stages 3-4 2016-2017
Curriculum Overview Key Stage 5 2016-2017
Key Stage 3
Year 7
Curriculum Overview
Year 8
Curriculum Overview
Year 9
Curriculum Overview
Key Stage 4
Year 10 and Year 11
Curriculum Overview (Options booklet)
Key Stage 5
Options booklet
Year 12
Curriculum Overview
Year 13
Curriculum Overview
---
Exam Results
GCSE Exam Results
KS5 Exam Results
Ofsted Report
---
Policies
Behaviour Policy
Charging Policy
Complaints Policy
Health and Safety Policy (12Mb)
Safeguarding Policy
SEN Policy
Sex and Relationships Policy
Teacher Pay Policy
Privacy Notice
Local Authority Use of Personal Information
---
Value for Money Statement
Value for Money Statement 2013-14
Annual Report and Financial Statements
Annual Report and Financial Statements 2015-16 (17Mb)
Annual Report and Financial Statements 2014-15 (16Mb)
Annual Report and Financial Statements 2013-14 (16Mb)
Pupil Premium
Pupil Premium information
Year 7 Catch Up Allocation
Pupil Premium Spending Priorities
---
Admissions
For more information about secondary school applications, see the Oxfordshire County Council web site.
Admissions Policy 2018-2019
Admissions Policy 2017-2018
Admissions Policy 2016-2017
Appeals Timetable - 2016
---
Careers Education
Information, Advice and Guidance
Privacy Notice
Careers Policy
---
Single Equality Scheme
Single Equality Scheme
---
Employer & Public Liability
The Claims Portal: If you are required to utilise the Claims Portal to submit a personal injury claim against us for either an employers or public liability matter then details of the correct portal ID and Compensator can be found on the attached link http://academyreferral.co.uk
We are a member of the Risk Protection Arrangement (RPA) administered by the DfE.
Go back
Wallingford Schools Academy Trust is an exempt charity and a company limited by guarantee.
Registered in England & Wales. Company No. 7727786
Registered Office: Wallingford School, St George's Road, Wallingford, Oxon, OX10 8HH, United Kingdom
VAT Registration 130 8553 29
© 2017 Wallingford School, St George's Road, Wallingford, Oxon, OX10 8HH
Telephone: 01491 837115 Fax: 01491 825278 E-mail: This email address is being protected from spambots. You need JavaScript enabled to view it.
Facebook: www.facebook.com/wallingford4140 Twitter: twitter.com/wallingford4140
Headteacher: Mr N Willis
E-mail: This email address is being protected from spambots. You need JavaScript enabled to view it.
This site supports the following browsers and operating systems:
IE 8+, Firefox 3+, Safari 3+, Chrome, Opera 9+, Mac, PC, iOS 6