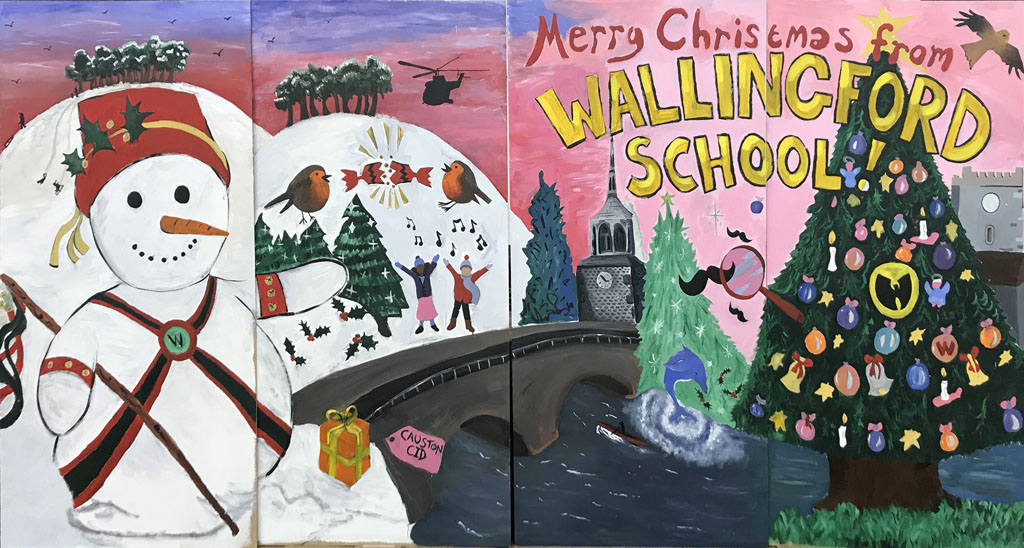 Christmas edges closer and in the school hall we have the most wonderful mural which celebrates Christmas and Wallingford life. It was created by our fantastic Year 12 Art students and ably supported by Mr Bowen and Mrs Bowyer. Well done to everyone involved who spent many hours on Wednesday afternoon bringing to life the striking images which bring colour and life to the school.
Another reason for celebration for our Art Department over the past week has been the results of the annual Merchant Taylors' Company Photography Competition. The Competition invites entries from all students and staff within the MTC family of schools across three categories – Junior, Senior and Staff – and there is always a very high number of entries. We are delighted that Jamila in Year 7 has been announced as the winner of the Junior category with her entry "Fingers Crossed" and that Mrs Pike has won the Staff category with her entry "Turn Your Face to the Sun". Both our winners will have their winning entries exhibited at the Merchant Taylors' Hall in London in addition to receiving a prize. We are going to share the winning entries through our social media channels so that all members of the school community can view them. We are very proud of our winners and also of all of our students and staff who entered the Competition.
As we near the end of term we also continue to support two local charities. Today we have our Christmas-themed non-uniform day with proceeds going to Aspire, an Oxford-based charity which supports homeless people. We also continue to collect toys for Sleigh 2 Give which will take them to patients in Oxford Children's Hospital during the days before Christmas. Thank you to all members of our school community for their support of these worthy causes.
Parents and carers may have seen an announcement this week about schools using Friday 18th December as an Inset Day. To confirm, it is not our intention at Wallingford School to do so and we will be open as normal on the last day of term with school finishing at 12.30pm.